Smart Shopper's Guide: What to Look for When Buying a New Car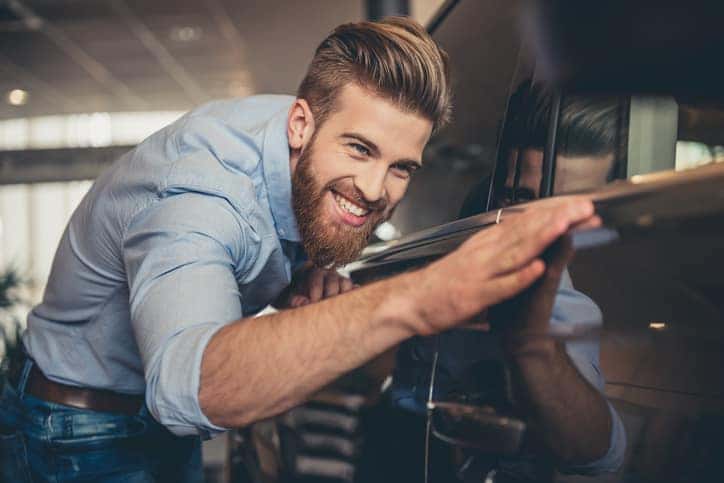 Are you thinking about trading in your car for something new? Perhaps your teenage son or daughter needs a set of wheels to go with that shiny new driver's license.
No matter who you're shopping for, you should take the car-buying process seriously. After all, besides a house, a vehicle is often the most expensive purchase consumers make. To take the pressure off, follow this smart shopper's guide on what to look for when buying a new car.
Look for a Car that Meets Your Transportation Needs
Finding the right car begins by assessing your expectations. Perhaps you want to make a statement with a speedy little sports car, or you need something practical to chauffeur the kids around town. To help you narrow down your options, ask yourself these questions:
How many passengers do you need to transport? Are these usually children or adults?
Where do you typically drive? On the highway, around town or off-road?
Do you have a long commute? If so, comfort and fuel economy are probably top priorities.
What size and type of cargo area do you require?
Will you be doing any towing?
Do you have a limited garage size to consider?
Find the In-Cab Features You Want
Once you narrow down your selection to a car, SUV, truck or van, it's time to get more specific by considering in-cab features. Most new vehicles offer all the latest technology, but if you're looking into pre-owned cars, don't make any assumptions. Here are some of the most in-demand features car shoppers look for:
Bluetooth wireless phone connectivity
Built-in touch screen infotainment and navigation system
Backup camera
Proximity keyless entry and keyless start
Automatic headlights
Seat warmers
Leather seats
Sunroof or moonroof
Satellite/internet radio
Make a list of the features that are most important to you. Then, decide which ones you can live without, if necessary, and which ones are deal breakers.
Consider Car Ratings
In-cab features are fun, but there's far more to a car than how many speakers it has or what the seats are made of. Thoroughly research the vehicles you're interested in to see how they fair in the following categories:
Safety: High safety ratings are important to many car shoppers. Look for an overall five-star rating along with specific features, such as seatbelt warnings, blind-spot monitoring, automatic braking and lane departure warning.
Reliability: If you're the type of person who buys a new car every two or three years, reliability might not be the most important factor for you. However, if you plan to buy a car, pay it off and keep it for the next 10 years, finding a dependable vehicle is paramount. Reliability ratings are available online for your consideration.
Performance: Do you want a trustworthy commuter car or a speedster with exhilarating acceleration? A high-performance 200+ horsepower, six-cylinder engine costs more than your average 150-horsepower, four-cylinder engine, but the extra get-up-and-go could be vital for you.
Warranty: All new cars come with warranties, but the coverage isn't always the same. Look for a respectable limited warranty – such as three years/36,000 miles – and powertrain warranty – which might be five years/60,000 miles. Then, consider adding an extended warranty for greater peace of mind.
Compare Manual vs. Automatic
The art of driving a manual transmission, or "stick shift," hasn't been completely lost yet, but it's far more common to find automatics these days. In fact, less than 4 percent of new cars sold in 2013 had manual transmissions.
Stick shifts are known to be more fun to drive, get better gas mileage and cost a little less upfront. If these benefits appeal to you, consider joining the rare few who proudly drive manuals. However, if you want the ease and simplicity of driving an automatic, this should be your go-to option.
Look for a Car in Your Budget
The ideal option is to pay in cash, but most of the time, car buyers require financing. For this reason, you should consider the down payment you can afford (we recommend putting at least 10 percent down) and how much you can spend on a car payment each month.
Depending on the interest rate you qualify for, every $10,000 you borrow will amount to about $250 per month for a four-year loan or $200 per month for a five-year loan. Keep this in mind as you weigh the cost of different vehicles and consider your monthly budget.
Remember to consider the cost of ownership as well. For instance:
More expensive cars have higher insurance rates.
Less fuel-efficient vehicles cost more to gas up.
Maintenance and repairs are typically more expensive for foreign vehicles.
Look for a Fair Price at a Local Dealership
You've come a long way in your research. By now, you should have an idea of the vehicle class you're most interested in. Maybe you have a vehicle make, or even a specific model picked out based on its size, features, ratings and average sale price.
The next step is to start looking for your dream car at a local dealership. Shopping online is a great way to save time and compare prices around town without leaving home.
Kelley Blue Book is a great source for determining fair market value for new and used cars. This helps you go into the dealership knowing what a good deal looks like. If you're looking at pre-owned vehicles, remember to consider the year, mileage, any cosmetic damage, after-market upgrades and reported accidents that could affect the value.
Even this late in your car-buying adventure, you should be willing to look at other cars similar to the one you have your heart set on. Staying flexible until the last minute helps you get the best deal on a new or pre-owned vehicle.
Pay Attention During the Test Drive
So, you've found a few promising cars online, and you're ready to schedule a test drive. Even with the research you've done so far, don't underestimate the significance of this step. Nothing is more important than assessing the way you feel behind the wheel!
So many variables come into play, from the seat height and steering wheel adjustment options to the dashboard control layout and outward visibility. While reviews for interior comfort and style are available online, you won't know how you feel until you climb into the driver's seat yourself.
Comfort is only the beginning. During the test drive, pay attention to the way the engine sounds and how the brake pedal feels. Is the vehicle responsive when you turn? Does the suspension provide a smooth ride? Drive in both stop-and-go traffic and on the freeway for at last 30 minutes to give yourself a thorough feel of the car and its capabilities.
Seal the Deal
Don't feel pressured into making a decision after your first, second or even fifth test drive. Buying a car is an important decision that will affect your life for years to come. Feel free to go home and think it over. Just remember, other people are car shopping too, so if you find a great deal on a car that's perfect for your needs, snatch it up before someone else does!
For access to quality, affordable cars in Clarksville, TN, please stop by Gary Mathews Motors. We have new vehicles from Chrysler, Dodge, Jeep, Ram and Fiat, plus a wide range of pre-owned vehicles for you to consider. We look forward to working with you!